Discover the new essantial pieces for this season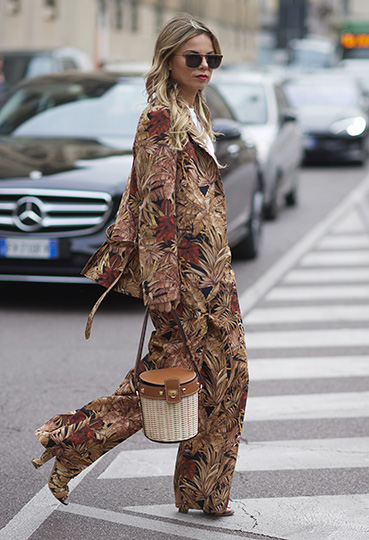 1.
FLORALS
Add some petal power to your wardrobe with the easy-going florals that are blooming in anticipation of sunny days ahead. A floral shirt – short-sleeved with a Cuban collar or slim-fit with long sleeves – adds a light and summery touch to any outfit. Choose from barely there ditsy prints for everyday wear, or full-on florals for a statement evening or party look. Great mixers, floral prints freshen up a formal jacket and happily team with whatever length trouser or skirt you choose to pair them with.
Retail price 2018 : €215
€140
Women's black belt
Retail price 2018 : €220
€143
Black and red mini backpack
Retail price 2018 : €140
€84
Women's grey backpack
Retail price 2017 : €210
€140
Women's floral jumper
Retail price 2018 : €195
€131
White blouse with flowers
Prix conseillé 2018 : 995€
595€
Black coat with pink flowers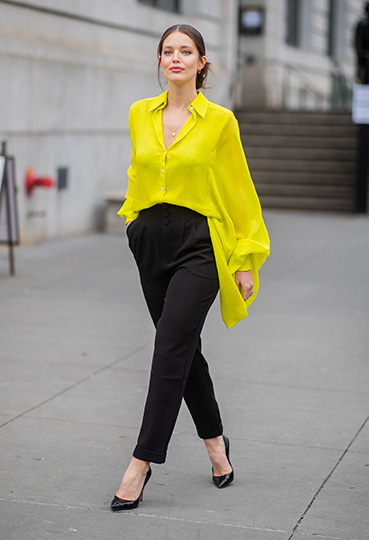 2.
FLUORESCENT
Banish the winter blues with neon hues – they're totally on point too, so now's the moment to embrace your inner extrovert with some of the fabulous fluorescent shades that have been hitting the runways. Less can be more with this trend, so you don't have to saturate your whole outfit, instead accessorise with one key piece – a shirt, jacket or outerwear – in Day-Glo pink, lime green or high-vis yellow to add a hit of retro street cool.
Retail price 2018 : €860
€516
Purple heels
Retail price 2018 : €298
€158
Pink rabbit make-up bag
Retail price 2018 : €255
€170
Metallic blue shoes
Retail price 2018 : €1060
€710
Men's watch T-Touch
Retail price 2018 : €975
€293
Men's blue trainers
Retail price 2018 : €1350
€944
White and red trainers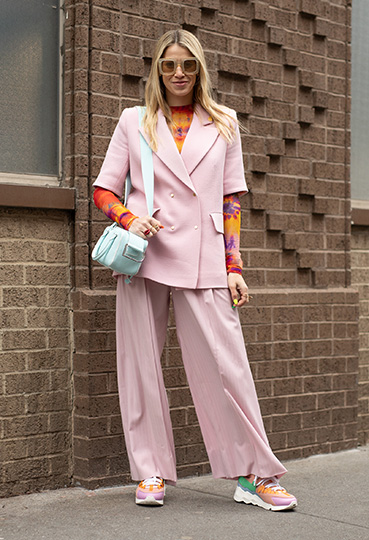 3.
SNEAKERS
This season's signature shoe, the trail sneaker has a real sense of purpose, fusing off-duty comfort with sports performance technology for style on the run. With their rugged good looks, these stylish shoes can handle anything your day can throw at them, from the morning commute to wild weekends away. They're also a great way of 'sneaking in' other trends at the same time, be with a touch of tie-dye, or a flash of fluorescence.
Retail price 2018 : €229
€149
Women's silver trainers
Retail price 2018 : €395
€260
White sneakers
Retail Price 2018: 195€
117€
Blue Frenchy Trainers
Retail price 2018 : €175
€115
Women's brown suede trainers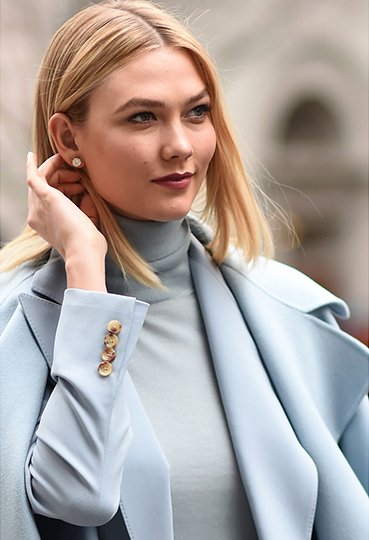 4.
PASTELS
Get in touch with your feminine side with pastels, this season's other colour crush. A gentler way to refresh your wardrobe, the new pastels come in a soothing palette of soft powder hues from chalky blues, to dusty pinks and orangey corals. Again, you don't have to go 'full pastel' to benefit from this trend, but some well-chosen pastel pieces will add understated elegance to formal and off-duty styles.
Retail price 2018 : €495
€265
Women's straw trainers
Retail price 2018 : €195
€126
Short pink dress
Retail price 2018 : €145
€94
Pink lace top
Retail price 2018 : €160
€107
Men's blue jumper
Pink handbag with flowers
Retail price 2018 : €353
€229
Beige leather handbag